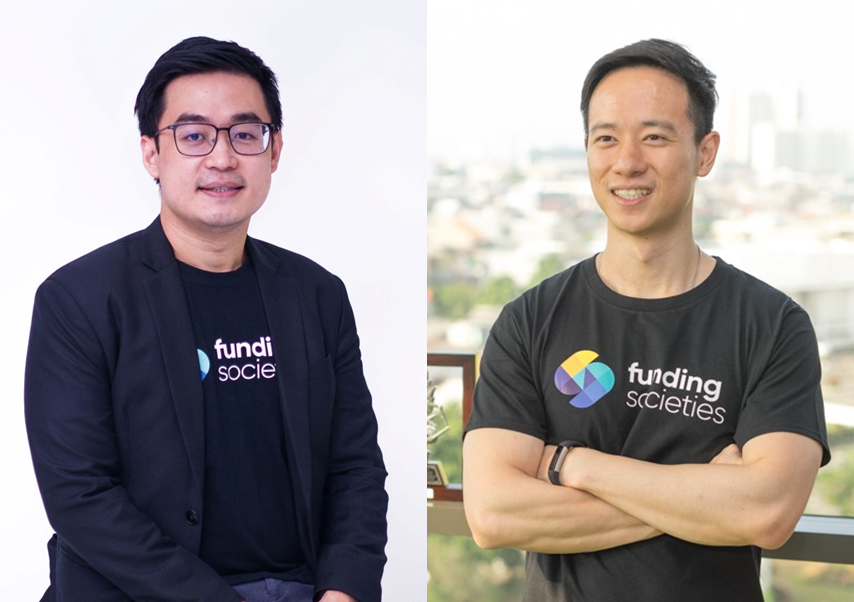 L-R: Chai Kien Poon, Country Head, Funding Societies Malaysia; and Wong Kah Meng, Group Chief Operating Officer, Funding Societies | Modalku
KUALA LUMPUR, 20 OCTOBER 2022 - Funding Societies Malaysia has announced the appointment of Chai Kien Poon as Country Head of Malaysia. In his new role, he will be responsible for managing day-to-day operations of Funding Societies in Malaysia, as well as driving strategic business partnerships and initiatives for the largest and leading SME digital financing platform in the country. Meanwhile, Wong Kah Meng, Funding Societies Malaysia Co-Founder now assumes a regional role as Group Chief Operating Officer, Funding Societies | Modalku, where he now oversees the Group's business across Malaysia, Singapore, and Thailand.

Kien Poon has been with the FinTech platform for almost four years. His past portfolios included leading the Strategic Investors division before heading the Strategic Projects and Operations division. Prior to Funding Societies Malaysia, the Chartered Financial Analyst (CFA) and London School of Economics and Political Science (LSE) alumnus was attached to the Securities Commission Malaysia (SC), where he has experience across multiple capital market segments and led industry wide thematic reviews.

On his appointment, Chai remarked, "I am honored by the trust and confidence of Kah Meng and the Group's management with this new role, and I look to continue the excellent work we have done so far. We have built ourselves a strong foundation since our inception in Malaysia in 2017, and I am excited to forge the future with the team as we continue to expand our products and services and extend our reach in the SME fintech landscape."

Wong Kah Meng, Group Chief Operating Officer of Funding Societies | Modalku, commented, "It has been a privilege to co-found and lead Funding Societies Malaysia over the last six years. I am humbled by the talent and commitment of our team, and their passion for pioneering digital SME financing in Malaysia. Kien Poon's broad experience and strong track record complement the amazing team we have in Malaysia and his appointment will no doubt help us to accelerate our mission to further serve the underserved, creditworthy SMEs in the country. I would like to take this opportunity to congratulate Kien Poon and I look forward to continuing working closely with him to scale Funding Societies Malaysia to new heights."

Under Kah Meng's leadership, Funding Societies Malaysia, launched in 2017, is now the largest SME digital financing platform in the country, disbursing over RM1.4 billion, representing more than a 50% market share. This is spread across more than 17,000 financing deals, directly benefiting thousands of underserved Malaysian MSMEs. Simultaneously, the platform maintains a current default rate of 2.3%. In Malaysia, Funding Societies currently offers short-term financing products encompassing invoice financing, micro-financing, business term financing, dealer financing, micro-credit line, Islamic trade financing, as well as the recently launched BizFund.

Funding Societies Malaysia is one of the entities under the Funding Societies | Modalku group. Collectively, the Group has distributed RM11 billion through over 5 million transactions since 2015. Besides Malaysia, it also operates in Singapore, Indonesia, Thailand, and Vietnam. Earlier this year, Funding Societies raised USD294 million (RM1.23b) through its Series C+ fundraising. It also announced a co-investment in Indonesia's Bank Index as well as the acquisition of regional payments solution, CardUp.