Funding Societies signs MoU with CGC Digital to empower MSMEs via first Digital Supply Chain Financing Guarantee
---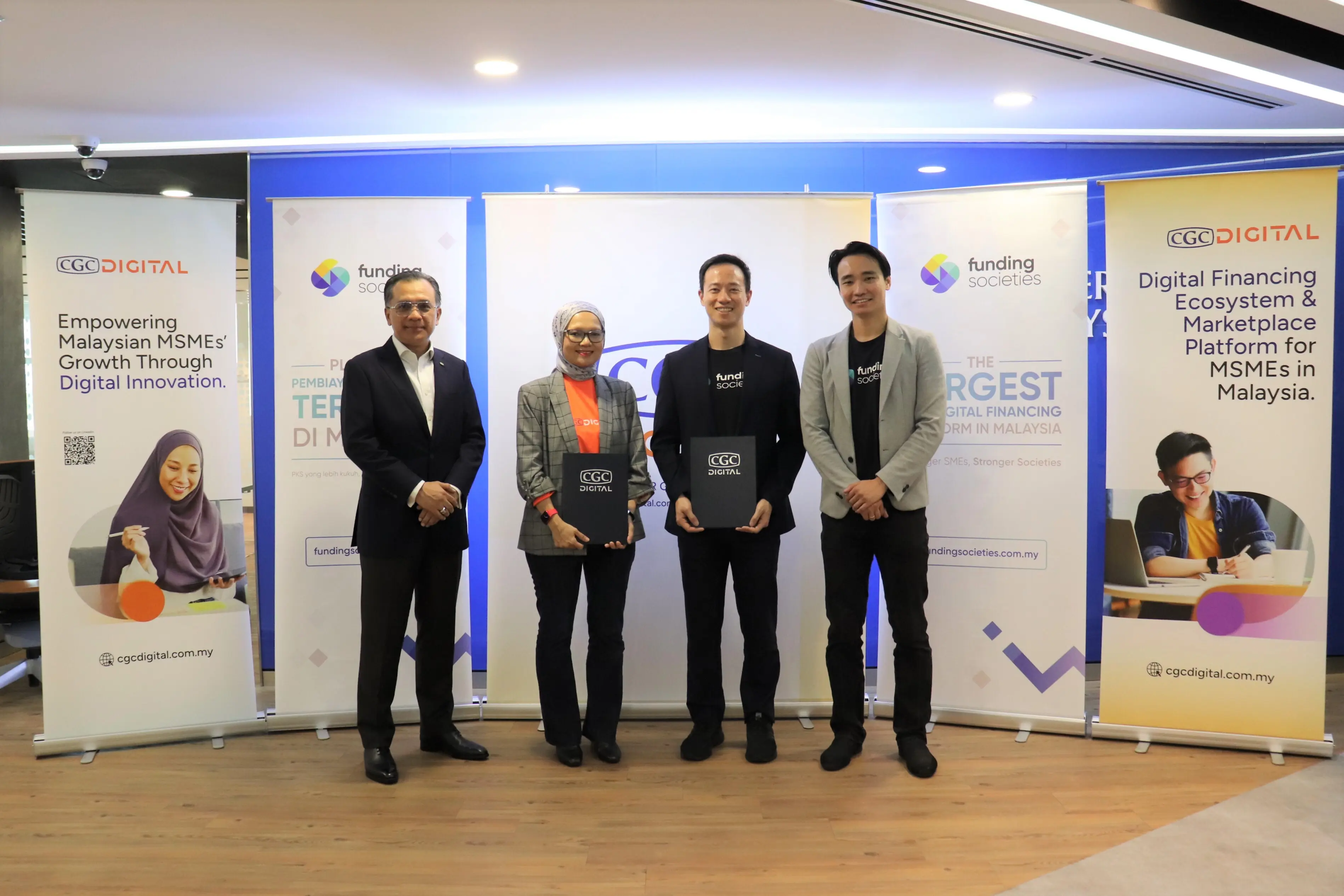 [L-R] President & Chief Executive Officer of CGC, Datuk Mohd Zamree Mohd Ishak; Chief Executive Officer of CGC Digital, Yushida  Husin; Group Chief Operating Officer, Funding Societies | Modalku and Co-Founder of Funding Societies Malaysia, Wong Kah Meng; and Co-founder & Group Chief Executive Officer, Funding Societies | Modalku, Kelvin Teo
KUALA LUMPUR, 3 August 2023 – Funding Societies, the largest unified SME digital finance platform in Malaysia became the first FinTech to partner with CGC Digital, the FinTech subsidiary of Credit Guarantee Corporation Malaysia Berhad (CGC). The partnership aims to provide a digital credit guarantee through a Shariah-compliant digital supply chain financing (DSCF) solution to better address the financing needs of Malaysian micro and small enterprises which are also the most underserved segments.
The Memorandum of Understanding (MoU) that was signed shows the two parties' commitment to collaborate on a Proof of Concept (POC) project and innovate products that could enable wider financing access for underserved and unserved MSMEs. Through the partnership, CGC Digital developed a new digital credit guarantee product for CGC that will be offered for financing up to RM4 million as a start, benefiting up to 100 creditworthy micro and small enterprises via Funding Societies' industry-leading DSCF solutions, leveraging alternative data for MSMEs' credit risk assessment.
Wong Kah Meng, Group Chief Operating Officer, Funding Societies | Modalku, commenting on the partnership, said, "Following our entry into the SME Portfolio guarantee program of CGC in April this year, we are fortifying this collaboration with CGC Digital. The digital-first approach leverages alternative data, enabling MSMEs with broader and more affordable access of MSMEs to digital guarantee and transformative financing."
Wong added, "CGC Digital's innovation of CGC's credit guarantee would mitigate risk for investors and reduce the cost of financing for MSMEs. Combining it with our industry playbook for fast-moving consumer goods (FMCG), agriculture, telecommunications, and wholesale & retail trade segments, we would be able to serve more micro and small enterprises that make up these industry segments."
Yushida Husin, Chief Executive Officer, CGC Digital said, "CGC Digital broke new ground in this collaboration with Funding Societies. This MoU signifies our mutual dedication to fostering innovation and co-creating value with MSMEs. CGC Digital seeks to provide MSMEs with a one-stop digital marketplace for better access to finance and more targeted assistance to scale up. Given this, we are committed to collaborating with like-minded strategic partners in the digital ecosystem to accelerate the financial inclusion of MSMEs in Malaysia."
Financing for micro and small enterprises remains challenging due to the lack of credit history and the nature of the financing, which is smaller ticket size and higher volume of transactions. This presents an exciting opportunity for FinTech companies like Funding Societies and CGC Digital to step in and provide the necessary capital and CGC's innovative credit guarantee features to meet the unique needs of these segments. By working hand in hand, Funding Societies and CGC Digital can leverage on technology and automation to risk-price more accurately and process financing efficiently, enabling right-priced trade finance products (traditionally reserved for larger businesses) for micro and small enterprises.
The MoU was signed by Wong Kah Meng together with Yushida Husin. It was witnessed by Kelvin Teo, Group Chief Executive Officer, Funding Societies | Modalku, and Datuk Mohd Zamree Mohd Ishak, President and Chief Executive Officer of CGC. The announcement comes on the heels of Funding Societies' MoU signing with CGC in April for a RM10 million SME Portfolio Guarantee scheme focusing on business expansion for small and medium-sized enterprises, and most recently, their launch of comprehensive Islamic Financing solutions including Shariah-compliant micro, trade, and term financings.
For more information on the partnership or Funding Societies' supply chain financing facility, please visit https://fundingsocieties.com.my/invoice-financing.