Funding Societies introduces Shariah-compliant Guaranteed Investment Note (GN-i)
---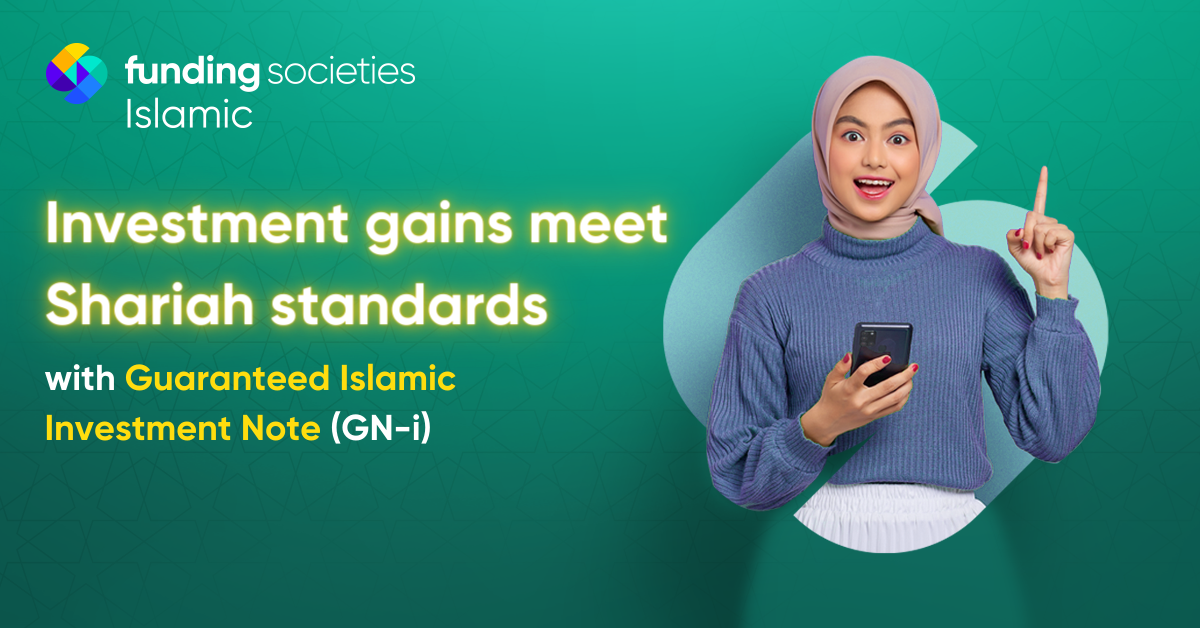 Guaranteed Islamic Investment Note (GN-i) by Funding Societies
KUALA LUMPUR, 21 June 2023 - Following the launch of its comprehensive Islamic financing solutions recently, Funding Societies, Southeast Asia's largest unified SME digital finance platform, introduces its Guaranteed Islamic Investment Note (GN-i). This new offering provides investors with an opportunity to diversify their portfolios through short-term, Shariah-compliant investment notes.
The Securities Commission's 2022 Annual Report revealed that RM368.13 million out of RM1.7 billion was raised via Shariah-compliant investments on peer-to-peer (P2P) or SME digital financing and equity crowdfunding (ECF) platforms. With the growth potential in this sector, fintech players have been identified as key enablers for innovative solutions in the halal economy and Islamic social finance. By introducing Shariah-compliant options for both SMEs and investors, Funding Societies aims to contribute to the development of the Islamic capital market ecosystem as envisioned by the Securities Commission.
Chai Kien Poon, Country Head, of Funding Societies Malaysia, said, "We are proud to introduce our first-ever Shariah-compliant guaranteed investment product on the heels of our comprehensive SME Islamic financing solutions launch in May. Investors now have the opportunity to diversify their portfolios with Shariah-compliant guaranteed investments which, in turn, helps close the RM90 billion SME financing gap by supporting Malaysian SMEs to grow and expand their business."
As an SME digital finance platform, Funding Societies provides financing to micro, small, and medium enterprises (MSMEs) through investment notes funded by retail, high-net-worth, and institutional investors. Payments from MSMEs, including both principal and returns, are collected by the platform and distributed to investors according to the agreed schedule, which can extend up to 24 months.
Funding Societies has disbursed over RM2 billion in financing in Malaysia since its inception in 2017, offering MSMEs a hassle-free capital solution. With no collateral requirement and quick disbursement turnaround time, MSMEs, including aspiring young entrepreneurs and those from disadvantaged backgrounds, can obtain the necessary funding to expand their businesses and increase their income.
Chai added, "In addition to providing accessible financing to creditworthy underserved SMEs, we have set a low minimum investment amount for our investors. Starting from just RM100 per note, investors can enjoy guaranteed gross returns of up to 8% per annum."
The GN-i follows commodity murabahah principles through a Tawarruq arrangement, combined with a kafalah (guarantee) contract. In the event of SME default, the guaranteeing entity assumes the payment obligations and compensates the investors accordingly.
For more information about GN-i, please visit https://fundingsocieties.com.my/guaranteed-islamic-investment-notes.