PEKEMA and Funding Societies establish a strong partnership to bolster the Malaysian automotive industry
via digital financing
---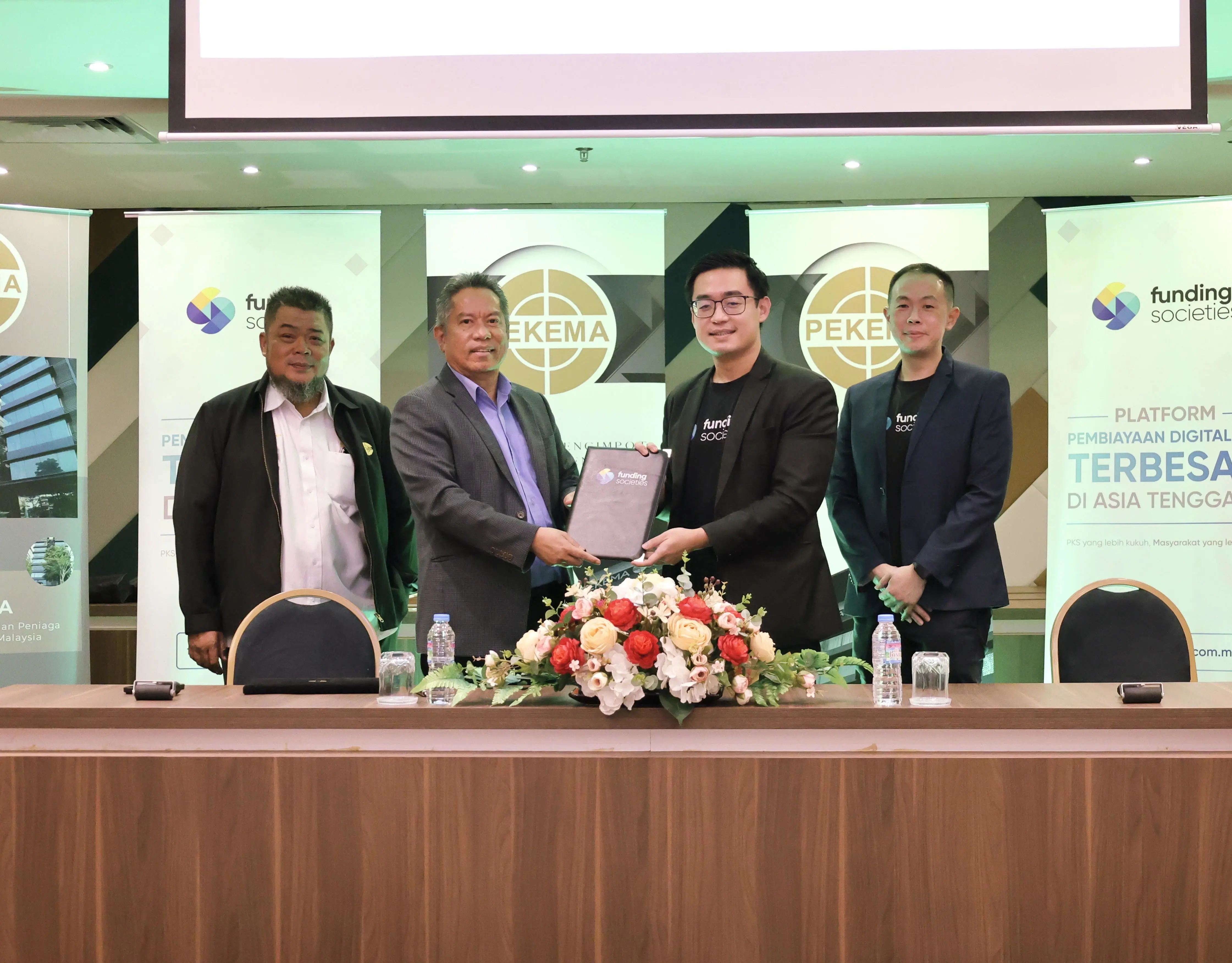 [L-R] Dato' Wan Sazrudeen Dato' Haji Wan Zaid, Secretary General of PEKEMA; Datuk Mohamed Nazari Noordin, Acting President of PEKEMA; Chai Kien Poon, Country Head of Funding Societies Malaysia; and Thong Kum Fatt, Head, Key Account Management of Funding Societies Malaysia
SEPANG, 30 August 2023 – The Malay Vehicle Importers and Dealers Association of Malaysia (PEKEMA) and Funding Societies, the leading and largest unified digital finance platform for small and medium enterprises (SMEs) in Southeast Asia, have entered into a collaborative effort to facilitate accessible financing through a digital financial platform.

The collaborative agreement, formalised through this partnership, is geared towards extending financial support to PEKEMA members, encompassing vehicle dealers from all corners of Malaysia. This undertaking echoes PEKEMA's unwavering commitment to empower its members and elevate the prestige of the Malaysian automotive sector.

Datuk Mohamed Nazari Noordin, Acting President of PEKEMA, underlined the significant potential of this collaboration in positively impacting the national automotive industry. "One pivotal aspect of this accord is the enhanced financial support it affords to PEKEMA members, streamlining their acquisition of vehicle stock for 'floor stocking' purposes," elucidated Datuk Mohamed Nazari.

He further emphasised the importance of this initiative in ensuring smooth business operations and effective fulfilment of customer demands.

Datuk Mohamed Nazari highlighted that PEKEMA is set to collaborate with both conventional and non-conventional financial institutions to maximise the breadth of the financing ecosystem. "This innovative approach is poised to invigorate automotive industry sales and provide members with the latitude to explore diverse financing models, aligning with prevailing market trends and requisites. The essence of this collaboration with Funding Societies harmonises with PEKEMA's mission to fortify Malaysia's automotive sector amid global transformation, leveraging technology and dynamic partnerships," he added.

In the preceding year, PEKEMA made significant contributions, importing over 46,000 vehicles and retailing approximately 37,000 units, constituting a commendable 5.2 per cent of the vehicle industry's total production (TIV). In the backdrop of Malaysia's steady economic growth and the introduction of novel vehicle models, the TIV for the current year is projected to reach an impressive 725,000 units.

With an extensive network comprising more than 340 distributors and 400 warehouses and showrooms throughout the nation, PEKEMA is well-positioned to continue its pivotal role in the automotive domain.

Simultaneously, Chai Kien Poon, Country Head of Funding Societies Malaysia, expressed enthusiasm about the collaboration's potential to introduce a groundbreaking vehicle stock financing paradigm, seamlessly integrated within PEKEMA's vast network of almost 300 Approved Permit (AP) holders. This financing mechanism empowers AP holders to broaden their vehicle stock, mitigate cash flow constraints, and facilitate business expansion.

"Through synergising Funding Societies' acumen in SME digital financing with PEKEMA's expansive network, we are confident in our ability to positively impact vehicle dealers aiming for nationwide expansion. This aligns with our objective to bridge the SME financing gap and fuel economic growth," Chai elaborated.

The automotive sector in Malaysia contributed a substantial RM64.5 billion to the Gross Domestic Product (GDP) in the preceding year, driven by post-pandemic demand rebound, and the figure is projected to rise to RM104.2 billion by 2030. Despite this growth, certain industry segments continue to face challenges, especially with financing access. The collaboration between PEKEMA and Funding Societies aims to address these issues by offering tailored financing solutions that meet the needs of emerging vehicle dealers.

Chai added that this customised financing program, in collaboration with PEKEMA, offers a range of advantages for AP holders - lower financing cost, higher financing limit, credit period up to 120 days, and streamlined application process. "AP holders that meet the following criteria - private and public limited companies, with at least 30 per cent Malaysian ownership, a minimum of one year in active business operation, and no pending legal actions or litigation - can apply for the financing," he affirmed.

For more details about PEKEMA, kindly visit https://pekema.org.my. For more insights into PEKEMA and Funding Societies' collaboration, please visit https://fundingsocieties.com.my/auto-distributor-financing/pekema.