RM6 million Allocated for Bumiputera Youth Entrepreneurs by SME Corp. Malaysia and Funding Societies
---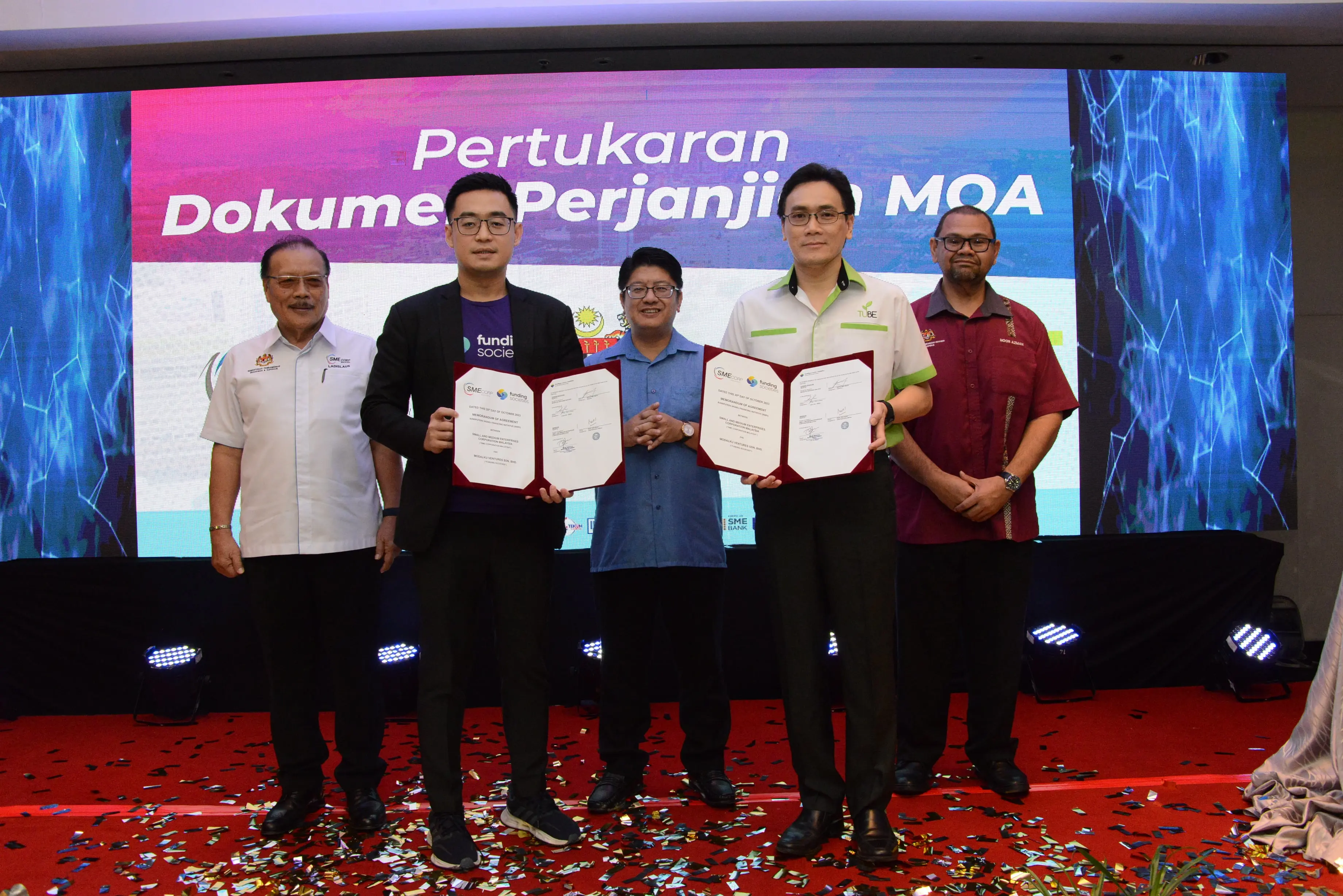 [Mr. Chai Kien Poon, Country Head, Funding Societies Malaysia (second from left); YB Datuk Ewon Benedick, Minister of Entrepreneur and Cooperatives Development (middle); and Mr. Rizal bin Nainy, Chief Executive Officer of SME Corp. Malaysia (second from right) during the exchange of the Memorandum of Agreement (MOA) ceremony at the TUBE Alumni Meet & Greet event in Kota Kinabalu, Sabah]
KUALA LUMPUR, 14 November 2023 – SME Corporation Malaysia (SME Corp. Malaysia), an agency under the Ministry of Entrepreneur and Cooperatives Development (MECD) and Funding Societies, the largest unified SME digital finance platform in Malaysia and Southeast Asia, have allocated an initial fund of RM6 million for Bumiputera youth entrepreneurs under the newly launched programme, Bumiputera MSMEs Financing Initiative (BMFI).
This new funding initiative is aimed at enhancing access to financing for Micro, Small and Medium Enterprises (MSMEs) who participated in SME Corp. Malaysia's Tunas Usahawan Belia Bumiputera (TUBE) programme. Funding Societies, as the appointed Financial Partner, will extend its digital financing solutions to young entrepreneurs through their Tunas Financing-i programme.
Introduced in 2014, TUBE programme aims to encourage Bumiputera youth between the ages of 18 - 30 to venture into business as well as build resilience, discipline and leadership in business management. With the valuable business knowledge gained from the TUBE programme and the additional financial support, entrepreneurs can strategically plan their ventures, innovate their offerings, and effectively scale their business operations.
Under the TUBE initiative, 7,040 registered entrepreneurs and TUBE alumni will have the opportunity to apply for Tunas Financing-i, with minimal documentation and zero collateral requirement. The programme offers financing up to RM100,000 with a maximum tenure of 24 months at a competitive profit rate of only 2% per annum (p.a.). MSMEs can also benefit from a streamlined online application process, with approvals as fast as within two working days.
Mr. Rizal bin Nainy, Chief Executive Officer of SME Corp. Malaysia said, "The specific allocation for Bumiputera youth entrepreneurs under the BMFI is befitting due to their important role with regard to the MADANI Economy framework's goal in achieving balanced, inclusive and sustainable growth."
"We hope to leverage on this partnership with Funding Societies to provide innovative and quick short-term financing solutions for Bumiputera MSMEs through a digital platform, in addition to existing Government funding. Hence, it is envisaged that more Bumiputera MSMEs will take advantage of this initiative to address their financing needs, especially in working capital. Access to financing remains a major issue that hinders MSMEs growth including the Bumiputera entrepreneurs. Therefore, the Government is committed to supporting the MSMEs in this area, as indicated by the substantial amount allocated under the 2024 MADANI Budget. Access to financing continues to receive the largest allocation amounting to RM32.15 billion (73.7%) of the allocation for MSMEs totalling RM43.6 billion," added Mr. Rizal.
Meanwhile, Mr. Chai Kien Poon, Country Head, Funding Societies Malaysia said, "Collaborating with SME Corp. Malaysia marks a key milestone in our journey to foster the growth and resilience of Bumiputera MSMEs. This partnership is a testament to our shared vision of equipping these dynamic entrepreneurs with the financial assistance they need to thrive and contribute to the nation's economy."
"Microenterprises and youth entrepreneurs play a significant role in realising a more inclusive, sustainable, and balanced growth vision for our country. Yet, they face persistent challenges in obtaining access to financing, often due to a lack of collateral and credit history. As a leading digital financing platform in the region with a proven track record of promoting financial inclusion among MSMEs, we are honoured to have the opportunity to work with SME Corp. Malaysia in further empowering these young entrepreneurs. This builds on our existing partnership with the Government agencies and we look forward to more collaboration in future to strengthen the MSME ecosystem," emphasised Mr. Chai.
In 2022, MSMEs comprised nearly 1.2 million business establishments in the country, accounting for 97% of all businesses and almost half of total employment. Of these, 79%, or more than 920,000 alone were micro-enterprises. The partnership between Funding Societies and SME Corp. Malaysia holds the promise of strengthening the growth and sustainability of these vital business communities in Malaysia's dynamic economic landscape.
The partnership was formally solidified with the exchange of a Memorandum of Agreement (MOA), witnessed by YB Datuk Ewon Benedick, Minister of Entrepreneur and Cooperatives Development, during the TUBE Alumni Meet & Greet event in Kota Kinabalu, Sabah on 11 November 2023. 
For more information on the partnership or Funding Societies' Tunas Financing-i, please visit https://fundingsocieties.com.my/tunas-financing-i.
---